EC Services
Tel: +44 (0)1274 635782
Mb: +44 (0)7702 002405
We manufacture and refurbish a large range of temporary site electrics and heavy engineering products
Transformers
Site & Industrial Transformers are fully weatherproof and air cooled.

Available:

Power - 0.5KVA to 500KVA.

Primary and Secondary Voltages -110V to 3300V

Transformers for Construction Site - Industrial Factory Environment - Civil Tunnelling - Railway Underground - Power Station Outages and Factory Shutdowns.

Extensive stocks of new and Refurbished equipment.
Transformers can be wound step up or step down, double wound or auto, and protected by variable earth leakage if required.
Typical application - Metal Clad c/w Carrying Handles - Robust Construction - Normally fitted with 110v BS4343 Sockets with MCB & RCD Protection & covered by BS4363 regulations.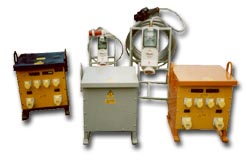 Options:-

Supply

Hire

Buy Back

Purchase of Used & Second-hand equipment
Previous applications are UK & Overseas Power Stations
Tunnel & Mine - Tunnel Boring Machine mine cables and transformers
Water Authority - GRP Non Corrodable Cased Units.
Workshop - Wall Mounted Units - BS4343 Sockets
© DSH Electronics Ltd 2011. All Rights Reserved